Smart City Solutions - detail
High quality Streetlight
- Secure capital expense -
We offer over 10 years long-lasting designed streetlights. It's not just because we use LED for it, protections from the possible damages were the key. Find various countermeasures against possible mechanical and electrical degradation below.
Energy Saving
- Reduce operational expense -
Compare to mercury lamp (350W), just about 90% energy reduction has been achieved by LED itself plus wireless dimming control technology.
Comparison of Electric Cost
at 12,000lm, at 0.2USD/kWh
Example of dimming pattern of a day
Future Expandability
- Deploy network platform for IoT -
MinebeaMitsumi network platform can be expanded to various IoT sensors. The centralized system management capability reduces the maintenance cost.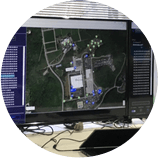 Network / device management consoles

cloud severMinebeaMitsumi / Paradox**
integrated network / device mgr
Streetlight with sensors

CCTV / hot spot

Parking sensor
* Paradox Engineering : A MinebeaMitsumi group company
Benefit by Smart City
Device / Sensor
Beneficiary
Business model

Device / Sensor

Streetlight

Beneficiary

City / Land owner

Business model

・Electricity cost saving by dimming

Device / Sensor

Camera

Beneficiary

Resident / Tenant

Business model

・Improvement of area security

Beneficiary

City / Land owner

Business model

・Remote traffic / Accident management

Device / Sensor

Parking

Beneficiary

Driver / Shop

Business model

・Reduce time to find parking place
・Charge by smartphone for easy payment

Device / Sensor

Environment

Beneficiary

Tourist / Logistics / Agriculture

Business model

・Very local weather forecast / Monitoring and countermeasure
Various in-house sensors for future expansion
We will be able to offer various in-house sensors. For example..
Enviromental sensors
Rain sensors
Camera module sensors
Contact
Contact our experts to find out more about Smart City