Retainers keep the balls separated and equally spaced. Retainer types are selected based on the bearing size, but can be selected based on the required performance.
Ribbon retainer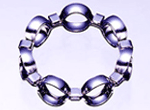 NMB part number symbol: R
JIS part number symbol: No display
Composed of two stamped steel plates
The balls are held between the two steel plates, and the tabs of the first steel plate are bent over the second to fasten them together. This is the most common retainer type.
Crown retainer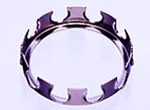 NMB part number symbol: H
Composed of a stamped steel part.
The small difference in inner and outer diameters of the retainer allows them to be used for thin type and miniature ball bearings.
Resin retainer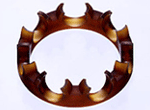 Common symbol: MN
Composed of molded or machined plastic.
Resin material includes polyamide, polyacetal and others.
Used for high speed rotation and low noise applications.
Support / Contact
For product-related inquiries, please contact us using the form below.