Wavy Nozzle installation method
Setting the injection position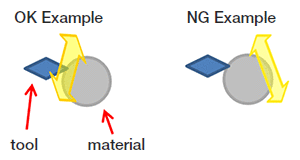 Outside diameter cutting
Adjust so that the cutting oil is sprayed to the point where the tool and material touch.

Internal diameter cutting
Chip winding around by shaking the nozzle so as to remove the chips coming out from the inner diameter.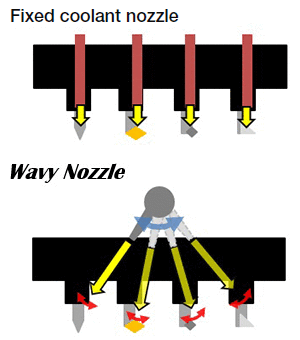 Back cutting tools
Pressure does not drop because coolant is discharged to each tool.
Chips are removed by spraying coolant while swinging the nozzle.
* For fixed coolant nozzles, the coolant pressure typically drops because the line is branched for each tool in the back operation.
Machining center
* Please refer here for the mode setting for the machining center tool.
Installation of Ejection Unit
Install to the machine by using mounting bracket
Basic: Install by using existing screw holes

* Drawings can be provided. Please contact us.
Machine type

Machine manufacturer

Model

Injection point

Photo

Gang type automatic lathe

TSUGAMI

SS327

Back operation tool

1

CITIZEN MACHINERY

L12

Main spindle

2
2-A

CITIZEN MACHINERY

L20

Main spindle

3

STAR

SR-32J

Main spindle

4

Turret type automatic lathe

YAMAZAKI MAZAK

QUICK TURN 200

Main spindle

5

TAKAMAZ

XD-10

Main spindle

6

CITIZEN MACHINERY

BNA-42GTY

Main spindle

7

Machining Center type

FANUC

ROBODRILL

Main spindle

8
8-A
Installation · Setting · Adjustment movie on machine
Nozzle cable placement method
Through hole in the cutting area of the machine
If there is a through hole in the machine, pass the nozzle cable out of the machine and connect to the control board of the Wavy Nozzle.

No through hole in the cutting area of the machine
If there is no through hole in the machine cutting area, there is a plate that can be opened during maintenance work, so replace the plate with a through hole added or a new plate.
Pass the nozzle cable outside the machine and connect to the control board of the Wavy Nozzle.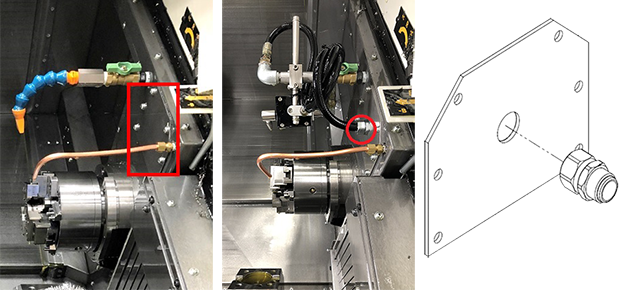 Recommended coolant pump pressure
Maximum discharge pressure of Wavy Nozzle: 4MPa
* Wavy Nozzle initial type (WN-01 / WN-02) is 2MPa.

Recommend coolant pump pressure

Oil-based coolant: 1 - 4 MPa
Water-soluble coolant: 0.3 - 4 MPa
1 MPa = 10bar = 10.2kg / cm2 ≒ Total head 100m

If discharge pressure of the coolant pump is low, coolant injection will not be straight, so the swinging motion of the Wavy Nozzle will not be effective.

If output of the coolant pump is branched and they are injected at the same time, the injection pressure from the Wavy Nozzle will drop.

For effective use of the Wavy Nozzle, it is recommended to turn OFF other coolant injections.

For machining centers when using water-soluble coolant, a normal pump may be effective.
Wavy Nozzle connection diagram
Wavy Nozzle connection* Basic connection to the machine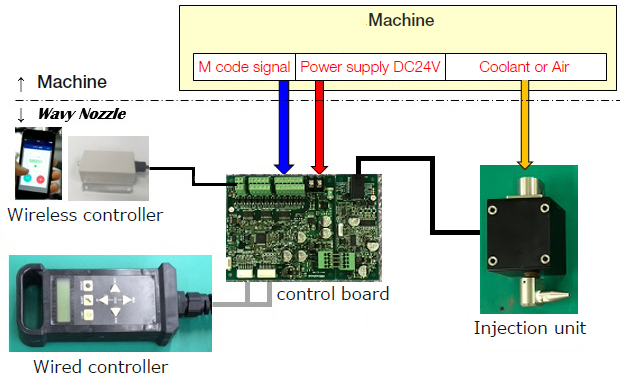 * The wireless controller is not compatible with the initial type (WN-01 / WN-02) of Wavy Nozzle.
Electrical wiring
Latch Signal M-code
Operation command: Operation memory call by M-code
Wavy Nozzle starts operation when it receives an M-code signal from the NC unit.
Wavy Nozzle has 5 operation command input terminals and can save up to 31 settings.
The M-code that Wavy Nozzle can use is one that can be "Latch Signal operation". (i.e. once turned ON, it remains in the ON state until it is turned OFF.)


e.g.) Nozzle operation command at Y100 terminal that can be turned ON / OFF with M-code M8 / M9

Example of electrical wiring diagram
Please refer here for an example of an electrical wiring diagram.
* Wavy Nozzle initial type (WN-01 / WN-02) has a different wiring method.
Example of control board installation
The control board of the Wavy Nozzle is stored in the control box of the machine.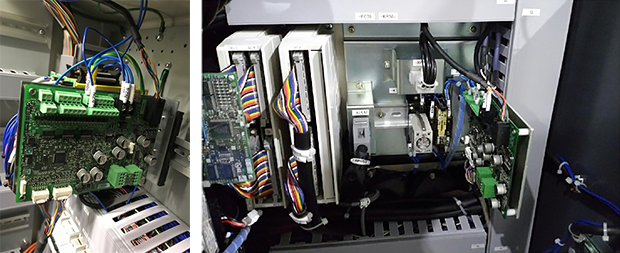 "Wavy Nozzle" is registered trademark of MinebeaMitsumi Inc.
Japan registered trademark : No. 5645210
"FANUC" and "ROBODRILL" are trademarks or registered trademarks of FANUC Corporation
iOS is a trademark or registered trademark of Cisco in the U.S. and other countries and is used under license.
The Bluetooth word mark and logos are registered trademarks owned by the Bluetooth SIG, Inc.
Support / Contact
For product-related inquiries, please contact us using the form below.