NAA / NAC dry, Spring actuated type electromagnetic brake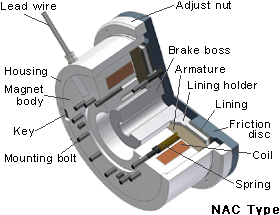 Brake of semi-sealed structure suitable for braking of large capacity and holding of electric load at failure of electricity supply, with wide range of torque between 40N・m and 6,300N・m.


Assembly
Various kinds of driving boss inner diameter and key way dimension are available in accordance with requirement.
Adjustment
Despite possible variation of clearance due to friction of lining, maximum clearance allowance is large enough that adjustment is possible even in case clearance reaches to maximum allowance.
Vertical type specifications
While this brake is of horizontal type, models of NAA type, NAC16 and NAC25 can respond to possible use as vertical type without modification. In such case, allowable braking energy rate is lowered by 20%.
Please inquire us as semi-standard products of vertical type are also available in series of model NAC40 and classes above.
Initial torque
Initial torque (torque at delivery) is set at 60% of rated torque.
Lining
Non-asbestos material is used.
Type indication

* 1. When products of models other than NAA and NAC25 or lower class are used as vertical type (locking screw in direction to the earth), please so indicate.
* 2. Specification number 000 means the standard product with catalogue prepared hole. (Numbers are given in accordance to customers preferences for configuration control).
*3. Voltage specification (DC-V)is as follows: B---24V・D---48V・E---110V
(Please inquire us for availability of specific electric voltage that may not be available in some products depending on model or size).
Support / Contact
For product-related inquiries, please contact us using the form below.