Any combination of parts made within the range of the products listed on this website constitutes a combination of standard parts, and therefore no initial costs will be incurred. We are confident that the products listed here will satisfy any requirements within the general range of use, however we are also able to provide custom-made products, in order to plan overall cost savings for equipment. In such cases, we charge for initial costs incurred in the preparation of dies, and so on. Please assess these costs against the costs of the equipment as a whole, and then inform us of requirements.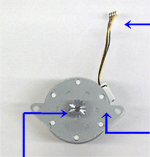 For wire assembly, we use readily available connectors with tinned terminals. The standard length of wires is less than 300mm, and any other lengths desired will require further cost consideration.


The range of front plates listed on the standard dimension page gives standard parts, and if any products outside this range are required, the cost of the die will be charged.
Gear specifications follow the selection of gears mentioned on the standard dimension page, and standard parts have an outer diameter of less than ø10, are less than 10mm in length, and of module 0.3 or more. If these sizes are exceeded, there will be some impact on cost.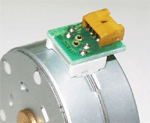 As this will mean a change in the type of connector, direction of connection etc. and in the PCB to which the connector is attached, it is also necessary to manufacture a new PCB. Thus, initial costs will also be incurred for the print, for processing, and for the die. This will not be the case if using connectors or mounting methods recommended by us.
Support / Contact
For product-related inquiries, please contact us using the form below.