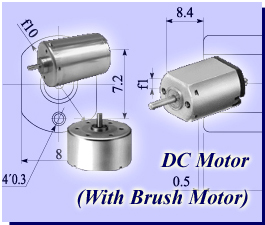 We provide low-priced, easy-to-use, high-Precision motors, with a broad range of applications from Automotive applications, OA appliances, Industrial equipments, Home appliances, Amusement equipments and Audio Visual equipments, etc. Our unique development and supply system enable you to choose from a wide selection of sizes and outputs that vary from compact, thin types to high torque types, with a combination of characteristics to suit your particular application requirements.

This guide will help you to select the appropriate motor to meet your size, usage applications and standard load/rpm requirements, We recommend that you select the optimum motor characteristics for the application, usage conditions, structure of the actual motor installed and temperature range, etc. After using this guide to make your selection, order a sample and test it in the actual application. To request a product sample, please contact our nearest sales office.

Motor output is basically proportional to the voltage used and the motor size, so selecting the largest size allowable is best for power consumption and the life of the machine. Even when using the same size motor, the output and current consumption, starting torque and cogging torque will very depending on the type of magnet used and the winding specifications, so please check the characteristics for each type of motor.
This guide is not part of the specifications manual. Please use it only as a reference when selecting a motor. The contents of this guide may change without notice. Changes to this guide have no relationship to products listed in the Specifications Manual or in production.
If changes to this guide do have an impact on the Specifications Manual. We will submit a change authorization request to our customers, and make the necessary changes only after receiving authorization.
Support / Contact
For product-related inquiries, please contact us using the form below.