In manufacturing back lights, MinebeaMitsumi adopts an integrated manufacturing system from designing to molding guide plates and LED mounting on FPCs. This gives us stable supply of the products at low cost.
Ultra-Fine Molding Technology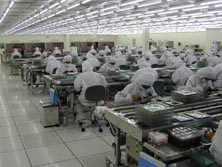 Our injection molding technology has a long achievement in other line of products. Based on the technology, MinebeaMitsumi stably produces fine-structure guide plates with micro shapes. We manufacture back lights for the guide plate in a clean room to meet the dust control requirements.
Support / Contact
For product-related inquiries, please contact us using the form below.