Minebea has a long history in DC brush motors for use in aircraft, and we provide products for a wide range of applications, from civil aircraft to aircrafts operated by Self-Defense Forces.
Our motors are generally used to drive electrical actuators, such as those used to operate control surfaces and to open and close door panels.
In many aircrafts, controls are shifting from hydraulic and pneumatic systems to electrical systems ("fly by wire") which help to make the aircraft lighter. These motors are expected to contribute to increasing use of the electric power system essential on future aircraft.
Motor External View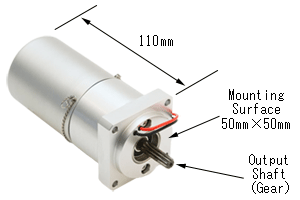 Typical Features
| | |
| --- | --- |
| Rated Voltage (V) | 28 |
| Rated Speed (min-1) | 11500 |
| Rated Torque(N・m) | 0.06 |
Features
The product's most important feature is its high reliability for use in aircraft.
The motor's construction also makes it lighter than DC brushless motors, which is an advantage for use in aircraft, where lighter weight is required.
Mechanical parts such as gears (DP), bearings and brakes used in the motors are all manufactured in-house by Minebea.

* DP: diametral pitch
Construction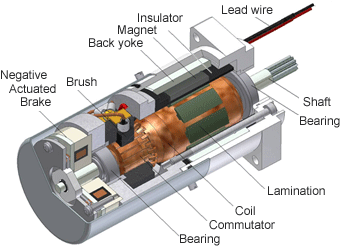 This motor's basic structure consists of the DC brush motor and brake.
The motor section has a magnet motor using permanent magnets as the field pole.
The operating life of the new model has been dramatically increased (compared to previous models) through improvements of the brush design, which has been the greatest problem in brush motors.
For the brake, we use a negative-actuated brake manufactured by Minebea.

This brake ensures that the mechanism remains stationary when the motor is stopped.
There is an additional brake that stops motor rotation.
This is a brake not dependent on friction but on dynamic braking.
This brake is actuated by a simple modification of the electrical circuit.
It is extremely stable and capable of stopping the motor very quickly, so it can be used effectively in the actuator.
Illustration: Example of Dynamic Brake Circuit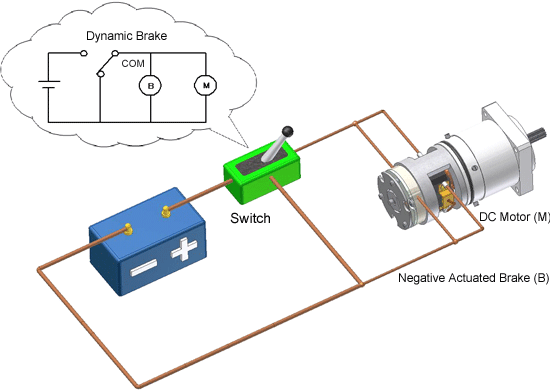 Support / Contact
For product-related inquiries, please contact us using the form below.