Part names
Blower
Driver
Connection Diagram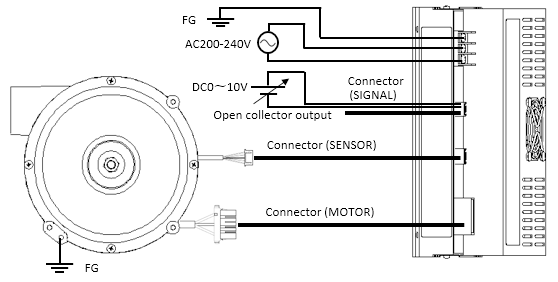 Terminal Block
No.1
FG
Connector(SIGNAL)
No.1
S_CTR
No.2
ACL
No.2
CTR_GND
No.3
ACN
No.3
FOLT
No.4
FOLT_GND
Connector(SENSOR)
Sensor Connector Input of Blower
Connector(MOTOR)
Motor Connector Input of Blower
If terminal block is placed near the Blower, make sure vibration / air stream does not cause mechanical fatigue of wire.
Fixed attachment to a nylon clamp and/or duct is recommended.
Driver connection to an AC power supply input terminal block should be firmly fixed using a crimp-type terminal with an insulating cover. (Recommendation: RAV 1.25 - 4, JISC2805 compliance) and electric wire equivalent to or larger than 1.25 mm2.
Make sure connector is pushed all the way down.
Rotation Speed Modulator
The Blower output can be adjusted by adjusting The input voltage between The control I/O connector terminal S_CTR and The CTR_GND terminal.
Input voltage: 0 V DC to 10 V DC, Input current: 1 mA or less
Please input the DC voltage that meets the input voltage specification between the terminal S_CTR and the terminal CTR_GND.
AC Power Supply Voltage Range
Part Number
Voltage
Frequency
60DCF-485
AC240V
+10%
50/60Hz
60DCF-486
-25%
60DCF-487
AC90V -
AC264V
Support / Contact
For product-related inquiries, please contact us using the form below.