Overview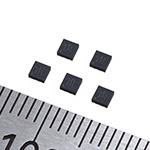 The <MM3472> delivers the world's leading class low-consumption and high-efficiency to meet market demands for longer continuous operating times and lower heat generation of cell phone devices.
The chief target devices are cell phones operating on 2 to 5 V power sources, and contribute to lower power consumption of the installed set.
Features
Low-consumption and high-efficiency (11µA consumption current).
50µW self-consumption power during standby.
Power savings of 20% or more compared to conventional products.
PWM/PFM operation mode switching function.
A lower noise PWM fixed mode and light load high-efficiency PWM/PFM mode can be selected at will to suit the design concept of the installed set.
Space efficient.
The package comes in a 2.0 × 2.0 mm SSON and SOT lineup.
An oscillating frequency of 2.25 MHz allows a more compact inductor to be selected.
Main specifications
Input voltage range

2.0~5.5V

Output voltage range

0.8~3.3V

FB voltage (PWM mode)

VFB±1.5%

FB voltage (PFM mode)

VFB±2%

Output current capacity

600mA

Switching frequency

2.25MHz typ.

Consumption current (with switching stopped)

11µA typ.

Efficiency (VIN = 3.6 V, VOUT = 1.8 V)

Io=0.01mA @25%
Io=100mA @90%

Protection function

UVLO, current limit, thermal shutdown

Control method

Automatic PWM/PFM switching control

Package

SSON-6L/SOT-26A

Dimensions

2.0 × 2.0 × 0.75 mm (SSON-6L)
2.9 × 2.8 × 1.15 mm (SOT-26A)
Support / Contact
For product-related inquiries, please contact us using the form below.