Overview
Power consumption of recent smartphones, tablets and other devices is increasing in recent years due to the higher functionality of these devices. Large instantaneous currents are generated when using camera flashes, GPS or launching multiple applications, and there are concerns about the unexpected effects of using older sets. Accordingly, a current protection function is required to support more complex current modes.
The <MM3722> detects overcurrent with external resistance sensing, which make it less susceptible to the effects of temperature or voltage fluctuations, and also making it easier to provide cooling for battery packs. Short circuit detection is also achieved with external resistance sensing in the same way as overcurrent detection, which limits fluctuations and ensures a higher level of safety.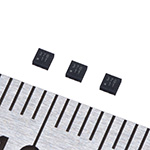 (The photo is of the SSON-6J)
Features
High-precision overcurrent detection ±15% or less
High-precision overcharge detection ±20 mV (-5℃ to 55℃)
Customizable detection threshold and delay time
Short circuit detection also uses external resistance sensing for higher accuracy ±20%
Main specifications
Overcharge detection

3.6 to 5.0V (5mV steps) accuracy ±20mV

Overcurrent detection

2.0 to 3.0V (50mV steps) accuracy ±35mV

Discharge overcurrent detection

+20 to +150mV (1mV steps) accuracy ±15% or less

Charge overcurrent detection

-150 to -20mV (1mV steps) accuracy ±15% or less

Short circuit detection

+40 to +250mV (1mV steps) accuracy ±20%

Consumption current (normal)

3.0µA typ. 6.0µA max.

Consumption current (standby)

0.1µA max.
(when excess discharge latch function is used)

0.6µA max.
(when excess discharge latch function is not used)

0V charge inhibition battery voltage

0.9V fixed or 1.3 to 1.8V (0.1V steps)

Package

SON-6C/SSON-6J

Dimensions

2.0(W) × 1.6(D) × 0.55(H) mm (SON-6C)
1.4(W) × 1.4(D) × 0.55(H) mm (SSON-6J)
(Note1) The VOUT launch conditions can be set when the voltage returns
Support / Contact
For product-related inquiries, please contact us using the form below.